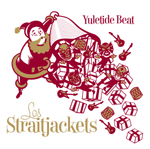 Los Straitjackets
Yuletide Beat
SpinLP2813
Released: December, 2009

RED VINYL and
NUMBERED LIMITED EDITION

10" LP $20


Tracklist:

Side A:

Deck the Halls
We Three Kings
Que Verdes Son
O Come All Ye Faithful
Groovy Old Saint Nick

Side B

Silent Night Rock
Joy To the World
Close to Christmas (The First Noel)
Jingle Bells
Soul'd Lang Syne
Los Straitjackets have issued a long awaited 10 song followup, to their popular Christmas album "Tis The Season for Los Straitjackets." The band has created 10 all new rock & roll arrangements of traditional Holiday carols, that'll have you rockin' through December, and closing out 2009 with a romantic slowdance to 'Sould'D Lang Syne." The band rides a desert surf wave on "We Three Kings," takes "Joy to the World" to Memphis, and takes "Jingle Bells" on a Bakersfield Sleigh Ride. Not to mention entering uncharted territory with a classic rock rendition of "Jolly Old Saint Nick" (retitled Groovy Old Saint Nick for 1971 ambience). This limited edition, numbered pressing of 1000 comes in a lovingly printed and letterpressed package by DC area poster artist El Jefe. Get yours while supplies last!